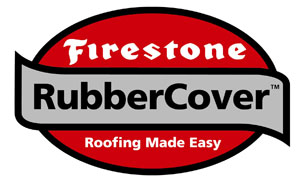 Firestone EPDM is widely recognized as one of the best roofing systems available today.
Firestone EPDB is a one-piece membrane that can cover most domestic flat roofs without the need for joins in the material. Whether it's a porch, extension, garage or dormer, Firestone EPDM will provide the solution that will last and last.
Benefits of Firestone EPDM:
20 Year Guarantee
Competitive price
Virtually maintenance free
Will not crack or perish
Can be walked on
Huge advantages over fibreglass/felt roofing systems
Environmentally friendly
Approved installer
The main component of a Firestone Rubbergard Roof System is EPDM, a single-ply synthetic rubber membrane made of ethylene propylene, diene monomer, mixed with carbon black, oils, curing agents and processing aids. It is calendared into large sheets and vulcanized. The EPDM membrane is fully adhered or mechanically fixed to an acceptable substrate using Firestone Bonding Adhesive.
It has been tested and proven that it is stronger, lasts longer and is easy to repair (if needed) than felt. It is proven to last at least 50 years or more.
Flat Roofing Gallery